My sweet baby is two weeks old today and already 9lbs and has grown an inch! How does it always surprise me how fast they grow?! We've been soaking up the newborn snuggles around here and enjoying our last few days with Sebron's Mom. I always take forever posting the birth story and wanted to get it down while it's fresh in my mind.
I wasn't due until October 23rd but started having contractions about four weeks out. I did this with Laughter so I wasn't getting to excited.
The morning of the 15th I woke up with hard contractions that I was having to focus through. They were consistent for about 2 hours at 10 minutes apart. They calmed down around breakfast which was disappointing but I just felt off. I already had a doctor's appointment for later that morning so Sebron went to work, and Meme kept the kids. (Did I mention she wasn't even supposed to get here until later in the week but called that previous weekend saying she just felt she needed to come a bit earlier. Thank you Lord!)
I wasn't feeling good by the time I got to my appointment and was still having contractions. After checking me and finding I was at a 3 and given my contractions I was having, my doctor excitedly announced I was having the baby today! He was so sure of it he told me not to leave town (he knew it took me an hour to get there) and to walk around for an hour of two. He also went as far as to schedule my post partum appointment.
I called Sebron and told him the news but said I didn't want to walk around town all day hoping something might happen. What if it didn't? I'd rather come home and walk around with the kids and that way if things did start happening he and I could go together.
We decided he would talk to his mom while I walked around Target for a bit. Target is usually one of my favorite happy places to walk since it's over an hour to the closest one. It's a special treat! As I walked though through all the bright happy displays of baby items and Fall decorations I felt more and more sick and my contractions got harder and were a steady 4-5 minutes apart.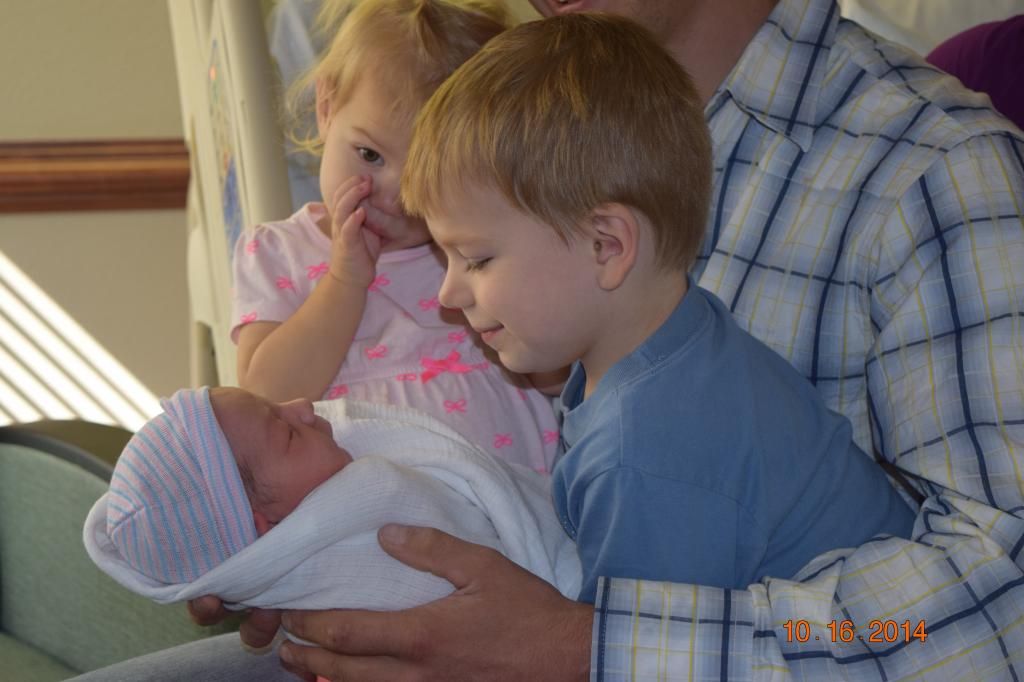 Meeting their sister for the first time...there were lots of "she's so cute" and tons of kisses. I will always treasure that moment.
I was terrified of the thought of my water braking there in the store so I left and sat in the car. =) I called Sebron again and gave him my update. He made the call to come to me. So while I sat in the car crying at the thought of leaving the kids for the next few days, Sebron, Meme and the kids drove up to the hospital to meet me. They arrived with Chic fil A and we headed to a park nearby to have lunch. It was about 1:30 or so at this point. I really felt off and out of sorts but the contractions weren't as hard. We had lunch and then Meme treated us to ice cream at an old ice cream parlor down town. Jancsi was in his element and Laughter was having a blast getting bites from everyone's cones.
The plan was for Meme and the kids to head home and Sebron and I to keep walking. But something told me to go get checked in at the hospital. I wanted to get that taken care of before things got really painful. We could always walk the halls later.
So, close to 3:30pm we were checked in and placed in a room for 'observation.' As soon as I put on my gown my water broke. I guess I was done being observed at that point cause this baby was coming!
Things started happening pretty fast at that point. My contractions got super intense and were every 2 minutes apart, some back to back with no break. I totally went for the epidural and of course the guy was in a c-section and wouldn't be available for another 45 minutes. We got through that horrible eternity and once the guy arrived with the juice from heaven I was at a 7! I've never progressed that quickly and Sebron was more excited then I was! It seemed like no time after the meds kicked in I was complete and ready to go!
Right after I got the epidural the shift change happened and our nurses changed. Who walks in but the same nurse who delivered Laughter! I felt like I was seeing an old friend and hugs were given out all around. Our baby nurse comes in and low and behold she was with us last time as well! More hugs! I love how the Lord cares about little details like that. It was something my Mom and I had been praying for- that some of our wonderful nurses from last time would be on duty this second time around.
As soon as I was ready, they told me not to push till they brought the doctor in. They kept telling me she (baby) was coming fast. Part of me wanted to believe them, but part of me was thinking back to Laughter's delivery where we pushed for 3 hours.
My doctor came in, and three contractions later, Hayva was in my arms. I could not believe it! The whole labor and delivery was so fast and smooth and my recovery has been so fast I could not be more thankful.
While we were in the hospital at least 5 of our nurses from Laughter's birth stopped in to see us and welcome our newest addition. After Lulu's birth experience, I'd written the nurses a thank you note for fighting so hard with us and attached a picture of our family. They still have it hanging up in their nurses room and begged for a new one. The other nurses that were working would hear who we were and several remarked "Are y'all the ones in the picture? Wow!" Needless to say, Sebron and I felt famous and loved. I am beyond thankful to my friend for pointing me to my doctor and this hospital. So so thankful!
Later that night we headed off to what would be our room for our stay. It was pretty late at that point but I couldn't sleep a wink that night. I just wanted to hold her and soak her up. Hayva slept for 5 hours straight and I was thinking wow we got a sleeper! However that was short lived- true to Jessup form, as soon as we got home she fell into the typical up every 1.5-2 hours that all our babies have done. She even pulled an all nighter.
Now two weeks in, I feel like we are all getting into a new rhythm. Thankful.