So many thoughts have flooded my mind and heart today. When I think back to the day she entered my world. We labored all day and all through the night with her not moving the least bit. I was striving for a VBAC, praying for a VBAC. Losing hope. The doctor gave us till 5:15am to get her to move. If not, he was going to do a c-section. At 5am I was completely exhausted and worn out. I was trying so hard to keep the faith. I remember stopping everyone (there were 4 nurses who had deserted their other patients and had been with me and Sebron for the last hour. Pushing me. Encouraging me. Yelling at me.) and saying "Y'all we need to pray." Everyone stopped and I cried my heart out to my Father God. "Lord you have GOT to move this baby because I CANNOT do it. Help me!" And then they all started yelling at me and encouraging me again. =) At exactly 5:15am I will never forget it... One of the nurses screamed and ran out of the room. She flew back in with the doctor and our beautiful, perfect Laughter Grace came into the world at 5:16am!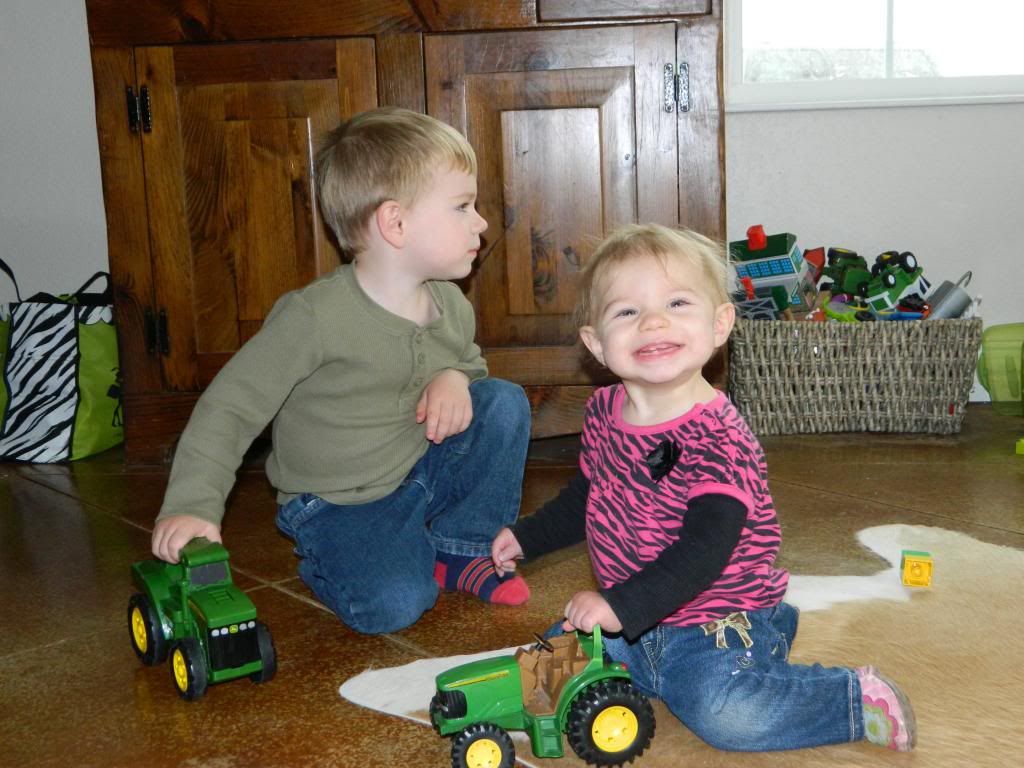 They put her on my chest and all I could do was raise my hands to the sky, tears streaming down my face, "Thank you Lord! Thank you thank you!"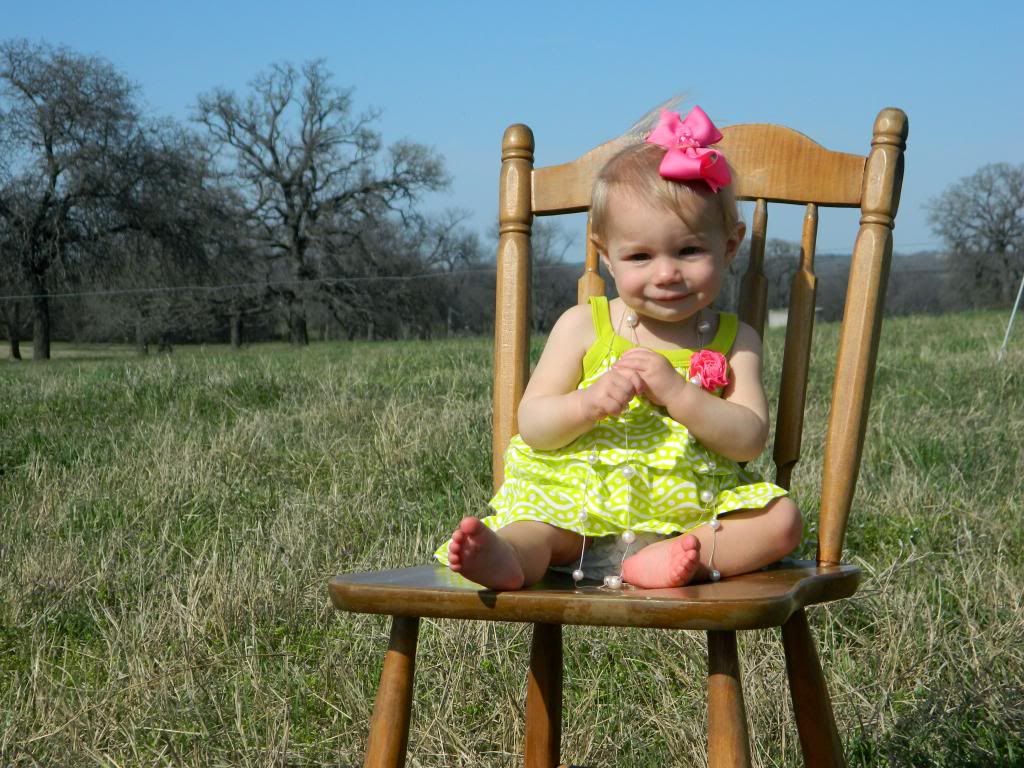 Adding her to our family has been so easy. A confirmation that she was always supposed to be with us. She has changed so much in a year. One of her favorite things right now is pushing around tractors with Jancsi. He of course is delighted and is teaching her how to make all the appropriate sounds. Another favorite thing (and keeps me laughing) is she crawls around with a bowl in her teeth like a dog with a frisbee. I have no idea where she got this but she thinks it's super fun and hilarious.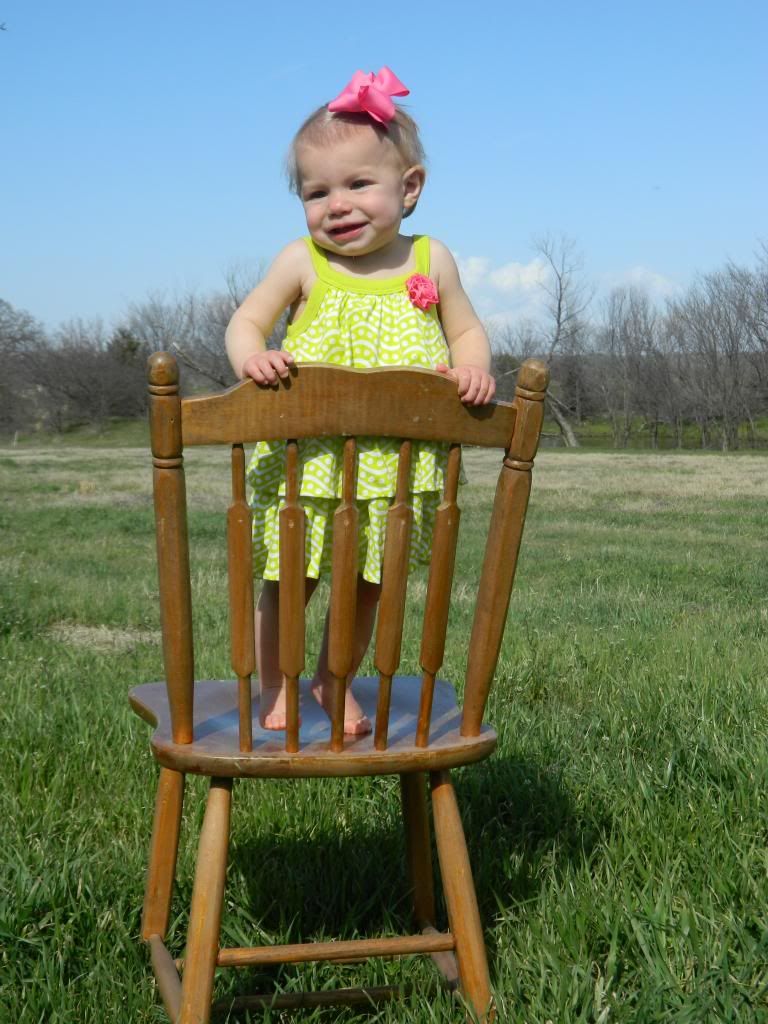 She has 4 teeth now and enjoys throwing food off her tray to munch on later if I haven't cleaned it up first. She loves trying our 'big people' food and pizza crusts are a favorite. =)
She is beside herself to get in the tub at bath time and Jancsi is teaching her how to blow bubbles. She is talking all the time but as of right now the majority of her sounds are 'dadadadadas'. She points at everything and proceeds to tell me a story for everything she points at. She still LOVES horses and goes crazy whenever she sees one. We were at a barrel race yesterday and she was beside herself every time I took her around the horses.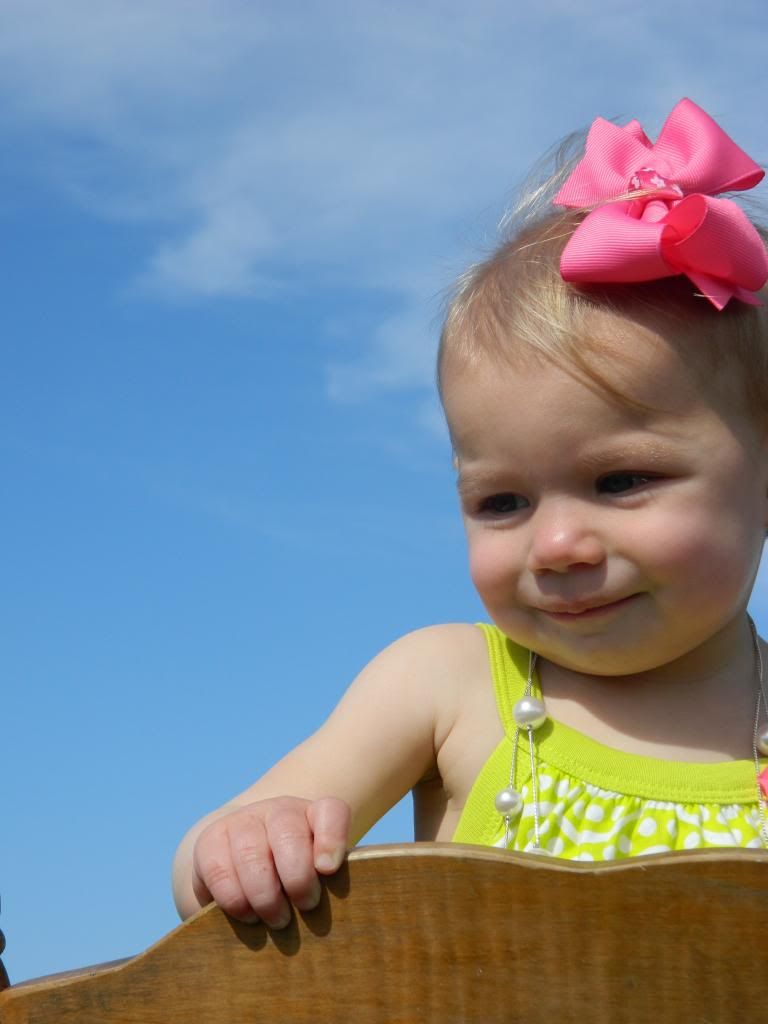 She has stood on her own for several minutes but so far is showing no desire to walk. She is proving to be a climber and with our concrete floors she has me a bit worried. She is still a Mama's girl, but enjoys her Daddy time as well. She gets excited when she sees his truck pull in and starts pointing saying "Dada!" She loves to sit with him in his big chair and often times when she is squirmy and unhappy with me I'll hand her to Seeb and she will snuggle in his arms and be content for the longest time.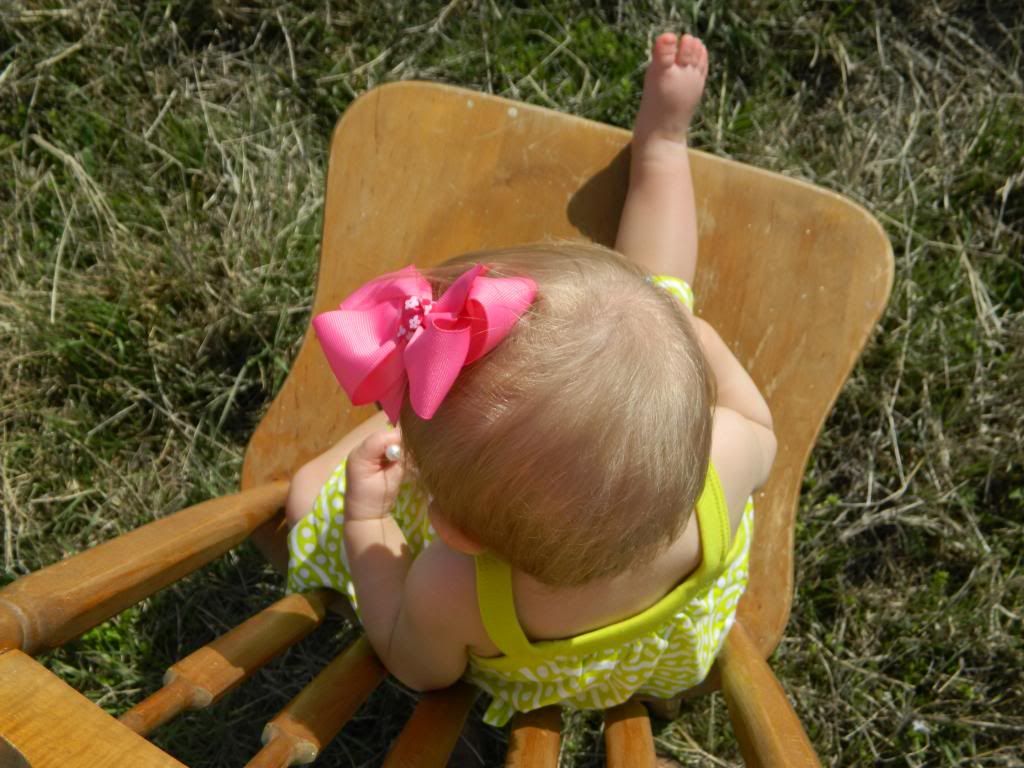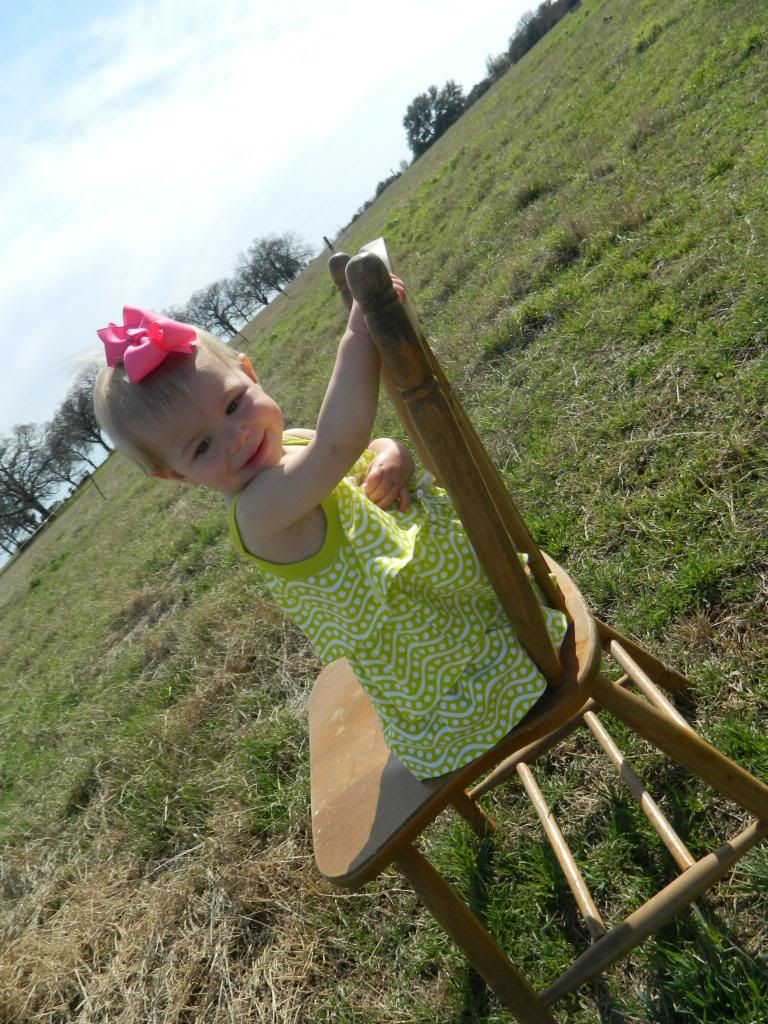 She has really been changing a lot even in the past week. She wants to interact with people and talk to them. I can't believe my sweet baby is one. I love seeing the little girl she is turning into and her personality blossoming more each day.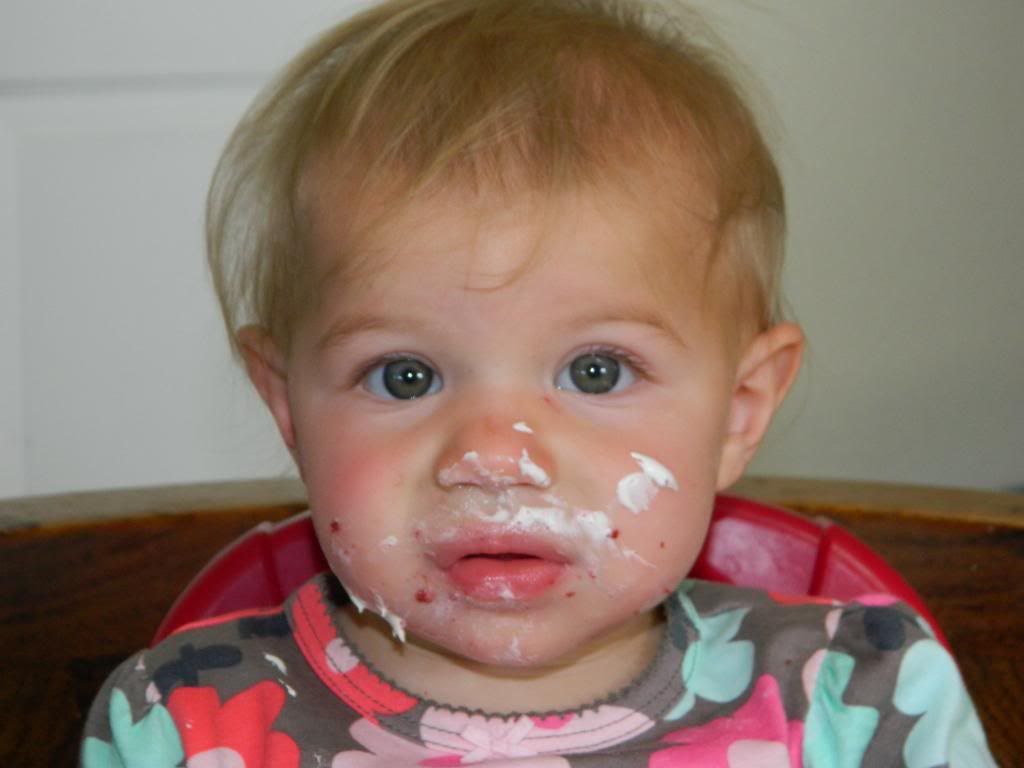 We've had a wonderful family day including our Pastor yodeling 'happy birthday' to her in front of church!
Sweet Laughter, may you grow to love the Lord at a young age. May you always put Him first and seek Him wholeheartedly. May you be filled with joy all your days.
I love you SO incredibly much!
-Mama